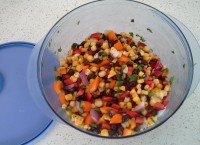 This Mexican inspired recipe can be used as a main course for lunch or a side dish for dinner or just as an appetizer with your favourite taco chips.
For the Dressing: Mix the first 5 ingredients in your Quick Shake and set asides.

For the Salad: Combine the remaining ingredients in a medium bowl. If fresh corn is not available a 12 oz can of unsalted corn can be substituted.