Do you love chocolate ? Well this recipe is for you!
These no bake brownies  are made in a 6 inch cake pan and can be pressed into a square, round or the heart shaped pan like the one I use. This recipe is fast and easy to make and tastes so delicious you may be tempted to overindulge.  But you only need a small slice to experience the decadent chocolate flavours of these brownies.  Enjoy a piece with fresh strawberries, raspberries or your favourite seasonal fruit for a healthy snack.
Here is one I made it for a friend's birthday! Be creative! You may never buy another chocolate bar again!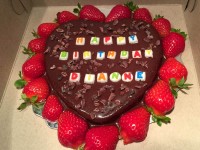 Raw cacao powder contains more than 300 different chemical compounds and nearly four times the antioxidant power of your average dark chocolate – more than 20 times than that of blueberries. Protein, calcium, carotene, thiamin, riboflavin, magnesium, sulfur, flavonoids, antioxidants, and essential fatty acids are also present. The precise blend of all these elements combined serve to kick in naturally occurring phytochemicals that have incredible benefits throughout the body, such as lowered LDL cholesterol, improved heart function, and reduced cancer risk.

Excerpt from foodfacts/mercola.com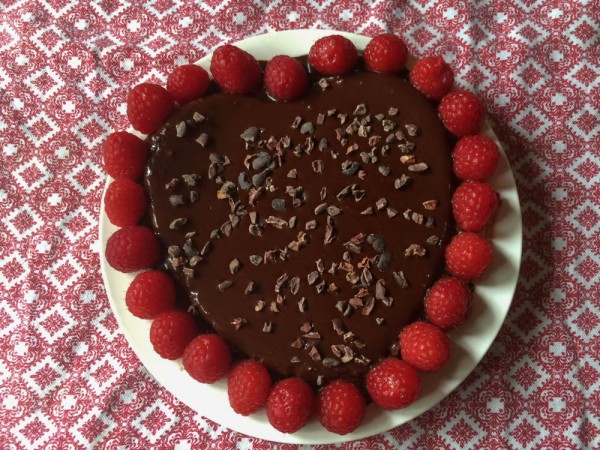 | | |
| --- | --- |
| | |
Process cashews and walnuts in your food processor until they are a fine meal.

Add the remaining ingredients and process until a slightly moist coarse mixture.

Press the mixture into a 6 inch cake pan and put in the freezer while you make the icing.

Whip the cacao powder, maple syrup, melted coconut oil and water together in a small bowl until shiny and smooth.

Remove the cake from the freezer and cut around the cake pan with a butter knife to loosen the cake. Then carefully flip the cake onto a plate.

Ice the cake with the chocolate icing and garnish as desired.

Keeps in the refrigerator for up to a week.
If you do not have fresh (moist) dried medjool dates and figs then soak them in hot water for 5 or 10 minutes before using in this recipe or your cake will not hold together.