Today Ann and I are hosting a farewell dinner for Eva who is moving to 100 Mile House next month from beautiful Canoe Pass Village here in Ladner.  For dinner we are serving fresh West Coast sockeye salmon stuffed with crab and shrimp, along with Mom's potato salad and a green bean (Brechbohnen in German)  recipe we found in the Vancouver Sun this week.   For dessert we are having Plum kuchen.  Plum kuchen, is a German coffee cake usually made with plums, peaches, or apples, with a cinnamon topping caramelized with brown sugar.
Since Eva is originally from Germany,  Mom's Potato Salad with it's European origin should nicely compliment the baked salmon.  This potato salad can be made the day before your event or the day of but make sure you leave enough time to let it rest so the flavours meld.  It always tastes better on the second day, although I made it for tonight's dinner, Ann and I hope there will be some leftover!
So what's the "Twist" you ask?  Well I went to Keith's market to get the potatoes for the salad and asked him which potatoes were best for potato salad and he said the red potatoes and  then he recommended that I add some of the purple potatoes for colour.  I was hesitant but decided what the heck !  According to Ann, Keith was actually a chef in his last incarnation.  Also, Mom never used curry powder in her salad but I love the aroma and flavour of curry so I like to add it where I can and it adds a nice taste to this salad!   Enjoy!
Before we knew it, Ann and I had a purple theme going on….even the napkins Ann  had on hand are purple.  What fun!!!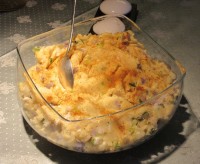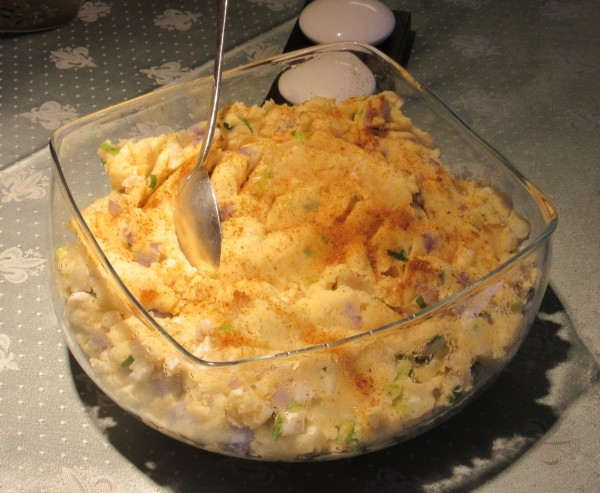 Print Recipe
Potato Salad
European style potato salad made with red and purple potatoes and a hint of curry.
Ingredients
5

eggs

hard boiled

7

medium

red potatoes

peeled and quartered

2

small

purple potatoes

peeled and diced

1

bunch

green onions

chopped

3/4

cup

mayonaise

2

tbsp

dijon mustard

2

tsp

curry powder (medium)

salt and pepper to taste
Instructions
Hard boil the eggs early on the day you plan to make the potato salad. Putting them in the fridge after the eggs are cooked will help to cool them quickly.

Peel and dice the 2 purple potatoes. Rinse and boil in a small amount of water for about 5 to 7 minutes, then drain and set aside.

Peel and quarter the 7 red potatoes. Rinse and boil in water for about 10 minutes or until they are tender when pricked with a fork, then drain and set aside until cooled.

Clean and chop green onions and set aside.

Peel eggs and coarsely chop and set aside.

Put the cooked red potatoes in a large mixing or serving bowl and mash. Then add the mayonnaise, Dijon mustard and 1 teaspoon of curry powder and mix well.

Then fold in the chopped eggs and green onions and mix well.

Season with Salt and Pepper to taste.

And finally fold in the diced purple potatoes.

If you used a mixing bowl, transfer the potato salad to a serving bowl and sprinkle another teaspoon of curry powder on top of the salad for garnish.

Cover and refrigerate until ready to serve.
Notes
Boiling the purple potatoes separately and folding them in a the end makes for a nice colourful potato salad !