Being a baker's daughter had it's benefits when I was growing up.  Anytime we needed bread, donuts, cookies or pastries, Mom would call Dad at the bakery or let him know the night before what we needed the next day.   When Dad was the baker, we never baked at home and that was our reality.   It made my Mom's life easier raising a family in the 50's and 60's and having 5 children all  born within a year apart, except for my baby sister Ann.  But I digress, my point is more to do with me and my lack of baking skills.  Although I worked in the bakery in my teens, everything was made in large batches and therefore I never learned to bake anything!  or maybe it was that I never had to!  But whatever the reasons, it seemed as far removed from my world as the moon.
In the years after I left home, I would look at bread recipes and think I didn't have time to wait for the bread to rise and complete all the kneading steps so instead I tried making "Irish Soda Bread"!  Yah, you know how this bread turned out…..hard as rock….ok maybe a little soft in the centre but never as good as Dad's bread.
Recently, I came across a no-knead bread recipe, that peaked my interest and saved it for one of those days when I had nothing better to do than to watch bread rise.  Today was one of those days.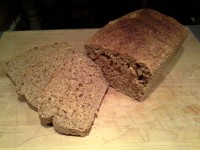 Whola!   I made my first loaf of bread from scratch!  This bread is definitely a keeper…but can it be replicated with gluten free flour?  I will keep you posted.  Apparently you can vary the percentages of flour and liquids as long as the proportions and yeast stay the same, the timing and results will be consistent.
This recipe was originally posted by The New York Times in 2006 using white bread flour and was adapted from Jim Lahey's Sullivan Street Bakery recipe.  Mark Bittman of the New York Times revisited the recipe a number of years later to try and reduce the time component and then again it was re-published in 2014 to simplify the steps and used whole wheat and rye flour.
Enjoy!
No-Knead Whole Wheat Bread
Ingredients
2

cups

whole wheat flour

1/2

cup

whole rye flour

1/2

cup

coarse cornmeal

1

tsp

instant yeast

1 1/2

tsps

salt

1 1/2

cups

water

oil or butter as needed
Instructions
Combine flours, cornmeal, yeast and salt in a large bowl.

Add 1 and 1/2 cups of water and stir until blended, dough will be moist and sticky.

Cover bowl with plastic wrap and let the dough rest for about 4 hours at warm room temperature, about 70 degrees.

Butter or oil a standard loaf pan approx. 8 or 9 inches by 4 inches. Lightly oil your hands and shape dough into a rough rectangle and put into loaf pan, pressing out the edges. Brush top of loaf with a little oil or butter.

Cover loaf pan with plastic wrap and let it rest 1 hour more.

Preheat oven to 350 degrees and bake the bread for about 45 minutes.

Remove the bread from the pan and let it cool on a rack.