One of the things that I have learned from my friends at Go Fit Gals is to prepare your food in advance of a busy work week.  I love their philosophy of "Eat Clean, Train Dirty" and so this morning I decided to start working the plan (again !).
Last night I thawed some ground turkey and first this morning made a batch of their turkey muffins.  Of course I had my cappuccino first!!!   So with coffee in hand I whipped up these yummy muffins and yes….. ate 2 for breakfast.
As with all my recipes, I find a way to adapt them to my liking (sorry Risse !)  Since I didn't have any salsa in the fridge,  I added one jalapeno and a 1/3 of a cup of onion to the recipe instead.  Also, I used the amazing Chop 'N Prep Chef from Tupperware to mince my onion and pepper in no time at all.
Also, I varied the quantities somewhat because who can ever find exactly 2 lbs of packaged ground turkey?  So play with it a bit, I used 1  1/4 lb of turkey because I buy Jennie-O brand from my favourite grocery store in Point Roberts, Washington and that's the size it comes in.  So don't go overboard but anywhere from 1 1/4 lb of turkey to 2 lbs will work, but you will need to increase the egg whites to 1/2 cup at the high end so that the muffins are not too dry.  A 1/2 cup of salsa will help too but is not necessary if you are using the onion and jalapeno pepper.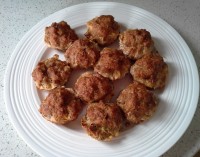 Print Recipe
Turkey Muffins
Ingredients
1/3

medium

purple onion

minced

1

medium

Jalapeno pepper

minced

1 1/2

lb

Ground Turkey

Extra Lean

1/3

cup

Egg whites

3/4

tbsp.

Cumin

1/2

tbsp.

chili powder

2

tbsp.

flax seeds

finely ground

1

tsp

Pepper

1

tsp

Sea salt
Instructions
Coarsely chop onion and jalapeno pepper.

Then add the coarsely chopped onion and jalapeno pepper to your Chop 'N Prep Chef with the steal blade. Cover with pull-cord cover and give it about 5 pulls.

With a spatula push any onion or pepper from the side of the base and return the cover and give it another 2 or 3 pulls until it is finely minced. Add these ingredients to a large bowl.

Add the turkey, egg whites, cumin, chili powder, finely ground flax seeds, salt and pepper together with the minced onions and peppers and mix well. It's ok to use your hands here !

Spray or season a 12 muffin tin with non-stick coating and divide the turkey mixture equally into the muffin tin and then bake for 25 minutes at 400 F.

Once out of the oven serve immediately or freeze two turkey muffins in individual baggies for lunches on the go.
Notes
It is not necessary to use the Tupperware Chop N'Prep Chef for this recipe as the onions and jalapeno's can be minced using a knife.
These muffins freeze well and 2 muffins with your favorite salad means you will be eating clean!