Fresh Okanagan peaches are sweet and juicy this year and my friend Ann gave me an amazing Tomato and Peach Salad that is so yummy, it's my new summertime salad.   I have adapted the recipe from the original 6 serving size to a single serving because that's where I am at right now.  But it works well to double or triple the ingredients if you are serving a crowd.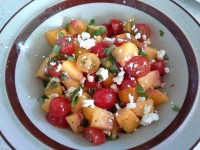 Print Recipe
Tomato and Fresh Peach Salad
This recipe was given to me by my friend Ann and the combination of peaches and tomatoes is unbelievably tasty.
Ingredients
1

medium

Peach

remove skin and chop to 1/2

12-15

Grape Tomatoes

cut in halves

1/4

tbsp.

Purple onion

diced

1/4

cup

feta cheese

crumbled

6

leaves

basil

fresh and coarsely chopped

1/2

tbsp

red or white wine vinegar

either one will work

1

tbsp

Cold pressed extra virgin olive oil

1

tsp

honey

Optional

salt and pepper to taste
Instructions
Mix all the ingredients together and enjoy !
I have been using white wine vinegar because that is what I happened to have in my pantry but the original recipe calls for red wine vinegar, so either one will work.
Since the locally grown grape tomatoes are delicious right now I used them but feel free to experiment with any tomato variety just make sure the ratio between the peaches and tomatoes is approximately 1 peach to 1 and 1/2 tomatoes to get the right juicy combination.
Also, fresh basil is a must!  I buy the small plant and keep it on my window sill.  Cut the young leaves at the top of the plant and keep at least one set of basil leaves at the bottom of the stems. Your basil will start to produce more offshoots resulting in more leaves.  If you cut a complete stem, your basil will start to die.  Keep it watered and out of direct sun and you will have fresh basil at your fingertips.   Before we went to the cottage this summer I had a cilantro plant and have yet to find a replacement.  Tomorrow is the final Ladner Farmer's Market for the year, so I will see if I can find one there.
Bon Appetit !!