As the weather here in Ontario hoovers around 15 degrees Celsius and it feels more like Fall than the middle of Summer, it is time to pull out the crock pot and make some comfort food on this cold blustery day.
Last week I did a big grocery trip to Owen Sound where there is a better selection of food but it is a 45 minute drive from Red Bay so it's not something I would do every day or every week for that matter.   I went alone and was able to take my time and browse around the local health food store as well as Zeher's which has a great selection of organic and health foods that you can't find in Wiarton.  I bought a bag of Organic Green Lentils at Lawson's Health Food Store with a plan to make a Lentil Salad but now they are going into my Lentil Stew!
I found a lentil stew recipe that was made with Indian spices on a blog called Spicy Spoonful and it included ingredients that I already had in the cottage with some modifications, because I didn't want to drive back into town.  This is one of the downsides of living in the country everything is far away.
This recipe was delicious but it took forever to cook the lentils and it wasn't ready for dinner so I kept cooking them until bed time and after 10 hours they still weren't soft.  What is going on?    I did some research on the internet and found that lentils should cook in 45mins. to a hour unless they are old lentils.  Also, lentils should be used within 3 months of purchase but I had no idea how long they might have been sitting on the shelf.
The next day I took a small batch of my lentil stew and re-heated it in a small saucepan.  It took almost an hour to get the lentils tender enough to eat.  So a big warning to make sure you buy your lentils from a store that has a relatively high turnover of their beans or you might be disappointed like I was and find them under cooked.   I have since re-heated this stew for a couple of more dinners as well as put some in the freezer fro another date and it tasted fine.  Stews generally get better on the second and third day and this was no exception.
I plan to try this recipe again with some fresh dried lentils and see if I can reduce the cooking time.  Let me know how your's turns out.  Bon Appetit !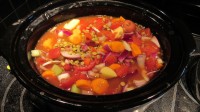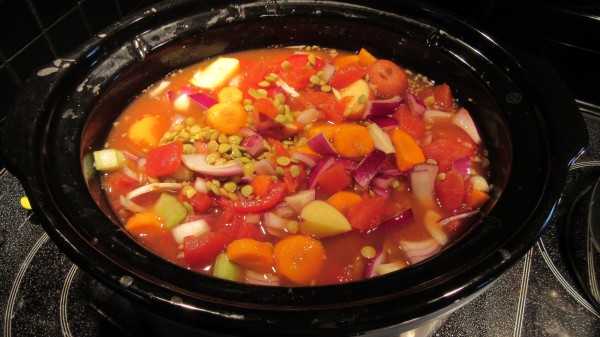 Print Recipe
Spicy Spoonful Lentil Stew
This vegetarian lentil stew "daal" is made with Indian spices in a crock pot.
Ingredients
2

cups

organic green lentils

rinsed thoroughly

4

cups

vegetable broth

equivalent to a 900 ml. carton of broth

1

medium

purple onion

diced

2

carrots

diced into large pieces

1

stalk

celery

coarsely diced

6

mini

red potatoes

diced into large pieces

1

28 oz

can of diced tomatoes

drained

3

cloves

garlic

minced

1/4

tsp

salt

1/4

tsp

black pepper

1/4

tsp

turmeric

1/4

tsp

ground coriander

1/4

tsp

crushed red pepper

1/4

tsp

cayenne pepper
Instructions
Rinse the lentils thoroughly and put in crock pot.

I substituted a medium purple onion for the small yellow onion so just use what you have on hand.

Not having a russet or red potato in the house I used 6 or 7 red mini potatoes instead.

Dice carrots and celery. I had a few tomatoes that were getting soft so I added them as well.

I substituted more vegetable broth for the bouillon cube and 2 cups of water. This way the entire 900ml. box of vegetable broth was used in my recipe so there wouldn't be anything left over.

Add all remaining ingredients in the crock pot and stir. Cover with lid and let it cook for 6 hours or more.