This delicious berry salad is combination of sweet and tart and is adapted from the Go Fit Gals Plan.  It's a wonderful salad to make ahead for a quick morning breakfast topped with a 1/2 a cup of non-fat Greek yogurt and a sprinkle of sunflower or chia seeds.
Grapefruits are a funny thing for me……. I know that they are full of nutrients and they are in every weight loss diet.  I have tried to eat a "1/2 grapefruit" for breakfast but it never really gets past a couple of days and the appeal of the grapefruit has worn off.  But when I started the Go Fit 21 Plan last Spring there was that "darn" grapefruit again but in a way I never thought of using it.   Now I am hooked and the grapefruit has found its way into my diet that I can truly embrace.   My favorite variety is the Ruby Red Grapefruit.
Now before you embrace the grapefruit like I have, make sure you buy a grapefruit knife or it will be a real pain to make this salad and you will find a way to omit it (and you know that I am talking about you!).  Here's my knife and as you can see it is slightly curved at the tip and has a coarse serrated edge on two sides.  A must have !
First cut the grapefruit in half, then follow the outside edge of the grapefruit along the skin all the way around with the knife to loosen it from the skin.  Then over your salad bowl start cutting out the sections and dropping them into the bowl.  After all the sections are in the bowl don't forget to give the grapefruit a good squeeze and drizzle the juice over the fruit.  I timed it this morning and it takes less than a minute per half a grapefruit to get the fruit in the salad bowl.  So it's easier than you think !  Enjoy !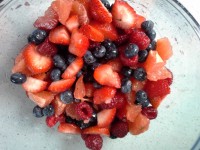 Print Recipe
Fresh Berries and Grapefruit Salad
Fresh blueberries, strawberries, raspberries and grapefruit.
Ingredients
1

cup

Strawberries

coarsely chopped

1

cup

Blueberries

3/4

cup

Raspberries

1

Ruby Grapefruit

sectioned

Stevia

Optional
Instructions
Section grapefruit into the salad bowl, then hull and chop strawberries.

Mix in the remaining fruit with the grapefruit and strawberries. Add sweetener if necessary.

Serve with an 1/2 cup of plain low-fat Greek yogurt and top with a sprinkle of sunflower or chia seeds.